Conical Bowl Decanter Centrifuges
Product Category:
Cement & Decanter wear resista
Price:
Negotiation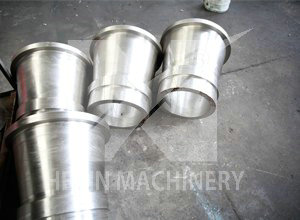 The decanter bowl is the key component of the centrifuge, and the strength of the drum is directly related to the safety of the centrifuge.
The rotating drum refers to the rotating parts in the centrifuge, also known as the roller. At present, the material of the rotating drum is mainly 304, 316 and duplex stainless steel. The molding method mainly adopts the stainless steel centrifugal casting process, with both mechanical properties and corrosion resistance. Guaranteed.
The result of the calculation of the drum strength is to determine the basic wall thickness of the drum as the main goal. For the local structure of the drum, most of the results are determined through experience or analogy to determine that the centrifuge relies on the strong centrifugal force generated by the high-speed rotating drum Mechanical equipment to realize liquid-solid and liquid-liquid separation of various materials.
HEXIN Machinery produces various OEM wear and corrosion resistant components for the cement, lime, coal, shot blast machines,and iron Ore industries.
The castings HEXIN made generally are made from special irons and manganese steels, which are critically used in the sectiors of cement manufacturing,coal mining (surface and underground), copper smelting,crushers direct reduction of iron (DRI)
Iron ore manufacturing,Lime manufacturing. All the castings manufactured at HEXIN go through strict quality checks at all stages before being supplied to customers.
Typical Mining & Mineral castings:
Ø Cooler grate plates
Ø Drag chain links
Ø Kiln outlets sector
Ø Immersion tubes for Pre heater
Ø Dipping tube assemblies
Ø Thimbles
Ø Air cannons
Ø Grate plates
Ø Drag chains
Ø Pelletizing grates
Ø Feed chutes
Ø Rotary cooler castings
Ø Burner tips
Ø Liners
Ø Brackets,
Ø Cooler grates
Ø Grate bars
Ø Iron ore feeder rolls
Ø Kiln nose rings
Ø Pallet cars
Ø Precipitator thimbles
Ø Traveling grate components
Contact Us
Tel.:
0086-532-6777 5336
Fax.:
0086-532-8898 7192
skype:
zhishuai.liu
Email:
info@hexinmachinery.com
Office address:
Rm 1402-1403, Excellence Bldg, No.128 Yanji Rd, CBD,Shibei Dist, Qingdao, Shangdong 266000, China