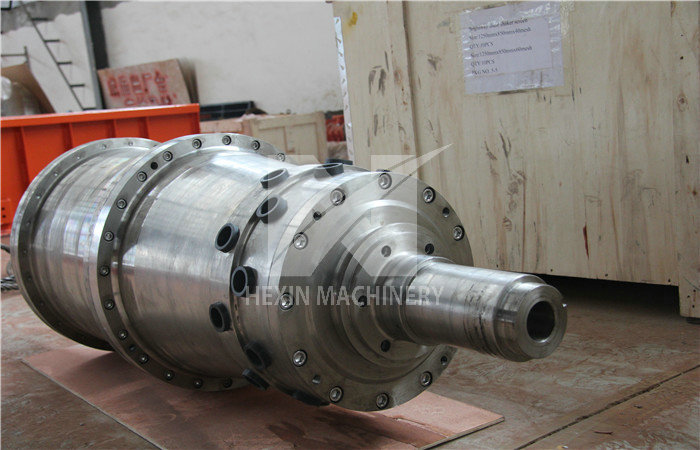 The decanter centrifuge is a spiral unloading sedimentation centrifuge. It is mainly composed of a high-speed rotating drum, a screw conveyor with a hollow shaft and a differential with the same rotation as the rotating drum and a slightly lower speed than the rotating drum.
When the suspension to be separated is fed into the drum by the hollow shaft, it is immediately thrown into the drum cavity under the action of the centrifugal force generated by the high-speed rotation. The high-speed rotating drum generates strong centrifugal force to sling solid particles with higher density than the liquid phase onto the inner wall of the drum to form a solid layer (because of the ring shape, it is called the solid ring layer);
Due to its low density and low centrifugal force, water can only form a liquid layer inside the solid ring layer, which is called the liquid ring layer.
Due to the different rotation speeds of the screw and the drum, there is a relative movement between the two (that is, the difference in rotation speed). The relative movement of the screw and the drum is used to slowly push the sludge in the solid ring layer to the cone end of the drum and pass through the drying zone. After that, it is continuously discharged from the outlets distributed around the circumference of the drum;
The liquid in the liquid ring layer is continuously discharged from the weir orifice to the outside of the drum by gravity to form a separated liquid.

HEXIN Machinery produces various OEM wear and corrosion resistant components for the cement, lime, coal, shot blast machines,and iron Ore industries.
The castings HEXIN made generally are made from special irons and manganese steels, which are critically used in the sectiors of cement manufacturing,coal mining (surface and underground), copper smelting,crushers direct reduction of iron (DRI)
Iron ore manufacturing,Lime manufacturing. All the castings manufactured at HEXIN go through strict quality checks at all stages before being supplied to customers.

Typical Mining & Mineral castings:
Ø Cooler grate plates
Ø Drag chain links
Ø Kiln outlets sector
Ø Immersion tubes for Pre heater
Ø Dipping tube assemblies
Ø Thimbles
Ø Air cannons
Ø Grate plates
Ø Drag chains
Ø Pelletizing grates
Ø Feed chutes
Ø Rotary cooler castings
Ø Burner tips
Ø Liners
Ø Brackets,
Ø Cooler grates
Ø Grate bars
Ø Iron ore feeder rolls
Ø Kiln nose rings
Ø Pallet cars
Ø Precipitator thimbles
Ø Traveling grate components
Contact Us
Tel.:
0086-532-6777 5336
Fax.:
0086-532-8898 7192
skype:
zhishuai.liu
Email:
info@hexinmachinery.com
Office address:
Rm 1402-1403, Excellence Bldg, No.128 Yanji Rd, CBD,Shibei Dist, Qingdao, Shangdong 266000, China