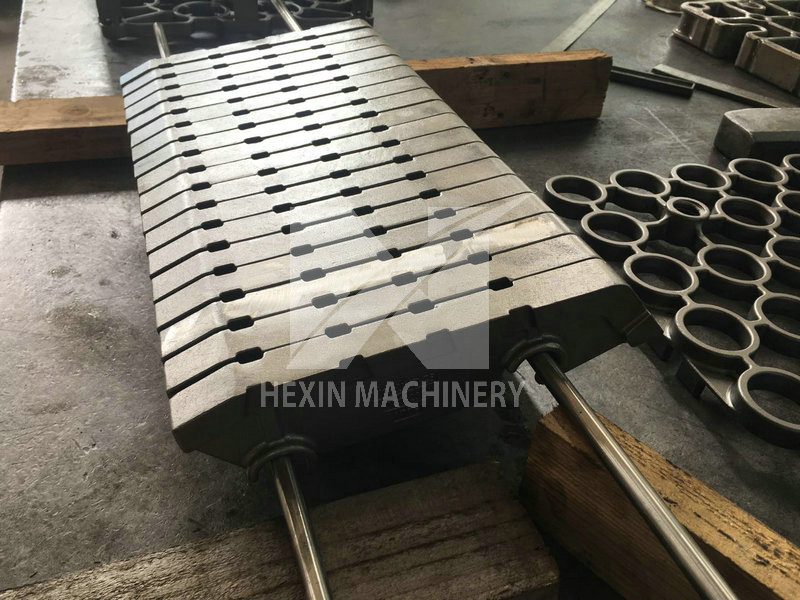 The incinerator grate bars are made by lost wax investment casting method , with heat resistant stainless steel material, by aluminum mould.
With over 30 year experience with investment castings, our skilled foundry engineers always design the most suitable gating system to guarantee the inside quality of castings.
We supply various components for incineration plant furnaces, like air cooled incinerator grates, water cooled incinerator grate bars, front panels, side wall, guide beams,combustion grates, roof components,etc.,
1.
The grate system is the core part of the grate type waste incinerator.
It plays a vital role in the overall process route, incineration effect, project cost, economic benefit, etc.
The waste incineration grate is mainly composed of reciprocating moving parts.
The garbage is pushed onto the grate through the feeding device, heated at high temperature in the furnace, so that part of the garbage can be dried, and the garbage is pushed forward by the movement of the grate.
At the same time, the garbage layer is loosened, and the fuel (garbage) is gradually passed through the various stages of drying, ignition, burning, and burnout to make it completely burnt.
2.
The mechanical grate type incinerator has a variety of grate forms.
Currently, the main applications include reverse push type grate, forward push type grate, drum type grate, etc.; its main function is the reciprocating mechanical movement of the grate.
Drive the movement and turnover of domestic garbage.
At present, the mechanical grate type incinerators mainly used at home and abroad include Germany's Martin grate furnace technology, Japan's Hitachi Shipbuilding grate furnace technology, etc.
These technologies have different structures and characteristics in their core grate parts.
3.
Compared with fluidized bed and rotary kiln incinerators, mechanical grate incinerators feature perfect and reliable technology,
large capacity, strong adaptability to waste, and convenient operation and maintenance.

HEXIN Machinery produces various OEM wear and corrosion resistant components for the cement, lime, coal, shot blast machines,and iron Ore industries.
The castings HEXIN made generally are made from special irons and manganese steels, which are critically used in the sectiors of cement manufacturing,coal mining (surface and underground), copper smelting,crushers direct reduction of iron (DRI)
Iron ore manufacturing,Lime manufacturing. All the castings manufactured at HEXIN go through strict quality checks at all stages before being supplied to customers.

Typical Mining & Mineral castings:
Ø Cooler grate plates
Ø Drag chain links
Ø Kiln outlets sector
Ø Immersion tubes for Pre heater
Ø Dipping tube assemblies
Ø Thimbles
Ø Air cannons
Ø Grate plates
Ø Drag chains
Ø Pelletizing grates
Ø Feed chutes
Ø Rotary cooler castings
Ø Burner tips
Ø Liners
Ø Brackets,
Ø Cooler grates
Ø Grate bars
Ø Iron ore feeder rolls
Ø Kiln nose rings
Ø Pallet cars
Ø Precipitator thimbles
Ø Traveling grate components
Contact Us
Tel.:
0086-532-6777 5336
Fax.:
0086-532-8898 7192
skype:
zhishuai.liu
Email:
info@hexinmachinery.com
Office address:
Rm 1402-1403, Excellence Bldg, No.128 Yanji Rd, CBD,Shibei Dist, Qingdao, Shangdong 266000, China