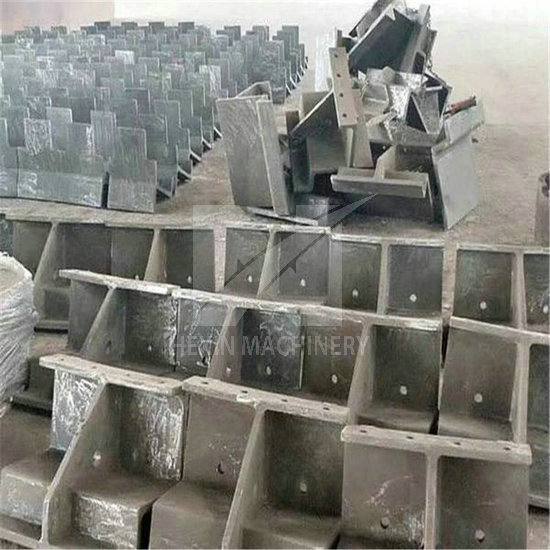 The grate plate is mainly used in hammer crushers, mills and other equipment. Because this type of crusher belongs to the form of impact crushing, the crusher grate plate is easy to break in the impact and collision with the material, so Yusheng is cast in the grate plate High manganese steel and other materials are used in the research and development, which greatly enhances its toughness and wear resistance. When the crusher material is counter-attacked on the liner and grate strips, it is smashed twice to ensure that the grate can better screen the crushed products.
The vulnerable part of the hammer crusher is the grate bar. The main reason for the damage of the grate bar is the impact and abrasion of the material. When hard or unbreakable materials enter the crushing cavity, it will also aggravate the blockage of the grate bar. It will aggravate the load of the grate strip and easily damage the grate plate. If the sieve plate is severely worn or broken, the output particle size will be too large. If the sieve plate gap is blocked and the feeding is uneven, the output of the hammer machine will be reduced. At this time, the blockage in the sieve bar gap should be cleaned up. Adjust the feeding structure. The height of the ribs of the hammer crusher is reduced by 50mm higher than the grate bar as the standard. The side of the ribs can also be welded to strengthen the strength of the ribs to effectively strengthen the wear resistance and impact resistance of the grate. Ability: The operator often checks during the operation and production process. If abnormal sound is found, the machine needs to be shut down for inspection, and the foreign body is taken out of the crusher cavity to avoid damage to the grate plate by the foreign body.
HEXIN is focusing on castings with several casting methods, like sand casting, investment casting, centrifugal casting, for various industries, with heat resistant stainless steel, wear resistant steel, etc, major products for cement plants like:
crusher hammers, impact plates (blow bars), monoblock crusher rotors, hammer rotor discs (segmented type), grate bars, frame toggle backling plates, end plates, toggle seat plates, wear liner plates, baskets, anvils for crushers
HEXIN Machinery produces various OEM wear and corrosion resistant components for the cement, lime, coal, shot blast machines,and iron Ore industries.
The castings HEXIN made generally are made from special irons and manganese steels, which are critically used in the sectiors of cement manufacturing,coal mining (surface and underground), copper smelting,crushers direct reduction of iron (DRI)
Iron ore manufacturing,Lime manufacturing. All the castings manufactured at HEXIN go through strict quality checks at all stages before being supplied to customers.
Typical Mining & Mineral castings:
Ø Cooler grate plates
Ø Drag chain links
Ø Kiln outlets sector
Ø Immersion tubes for Pre heater
Ø Dipping tube assemblies
Ø Thimbles
Ø Air cannons
Ø Grate plates
Ø Drag chains
Ø Pelletizing grates
Ø Feed chutes
Ø Rotary cooler castings
Ø Burner tips
Ø Liners
Ø Brackets,
Ø Cooler grates
Ø Grate bars
Ø Iron ore feeder rolls
Ø Kiln nose rings
Ø Pallet cars
Ø Precipitator thimbles
Ø Traveling grate components
Contact Us
Tel.:
0086-532-6777 5336
Fax.:
0086-532-8898 7192
skype:
zhishuai.liu
Email:
info@hexinmachinery.com
Office address:
Rm 1402-1403, Excellence Bldg, No.128 Yanji Rd, CBD,Shibei Dist, Qingdao, Shangdong 266000, China