The cantilever roll discharged from a steel rolling heating furnace.
We produce cantilever roller with high temperature resistant alloy steel of nickel chrome alloy , like material: ASTM A351 HK40, 1.4848, 2.4879,1.4852.
It consists of a blind plate, a roller sleeve, a support plate, a shaft and a water inlet pipe. The roll sleeve is an integral structure. The same ends are respectively welded with a blind plate, a support plate and a shaft. The water inlet pipe enters the roller sleeve through the central hole of the shaft and the support plate. Because the utility model has the advantages of simple structure, easy manufacture, low cost and long service life, the utility model is suitable for the use of each steel rolling heating furnace. But how to choose a good cantilever roller, its material, manufacturing process, performance and life are all important factors we need to consider.
It relates to the improvement of the structure of a cantilever roller head on a walking furnace. The roller head includes a roller head and a roller shaft. The roller head sleeve is provided outside the roller shaft, and further includes a positioning sleeve and a positioning pin; the positioning sleeve is provided between the roller head and the roller shaft, and the positioning sleeve is fixed. Connected to the roller shaft; an axial positioning pin hole is provided between the outer surface of the inner end of the positioning sleeve and the inner surface of the inner end of the roller head, and the positioning pin is provided at the positioning A pin hole; the roller head is fixed circumferentially relative to the positioning sleeve; a step hole is provided at the edge of the inner port of the roller head, the retaining ring is provided in the step hole, and the inner surface of the retaining ring Fixedly connected to the roller shaft; so that the retaining ring is axially fixed relative to the roller shaft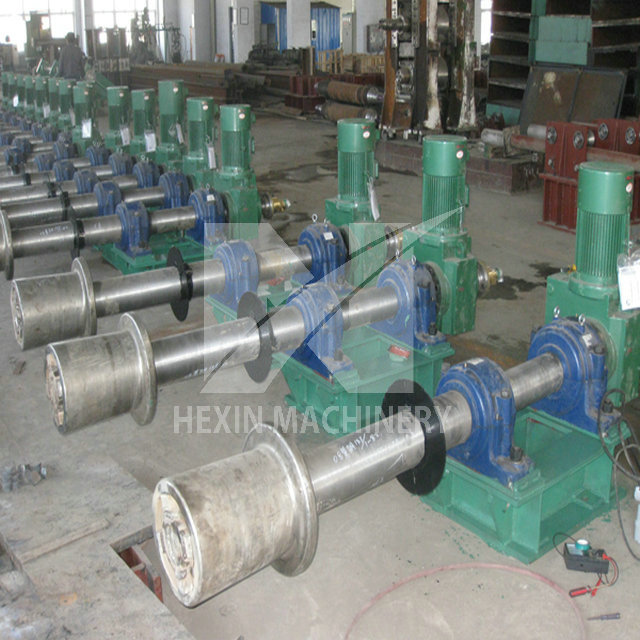 HEXIN Machinery produces various OEM wear and corrosion resistant components for the cement, lime, coal, shot blast machines,and iron Ore industries.
The castings HEXIN made generally are made from special irons and manganese steels, which are critically used in the sectiors of cement manufacturing,coal mining (surface and underground), copper smelting,crushers direct reduction of iron (DRI)
Iron ore manufacturing,Lime manufacturing. All the castings manufactured at HEXIN go through strict quality checks at all stages before being supplied to customers.
Contact Us
Tel.:
0086-532-6777 5336
Fax.:
0086-532-8898 7192
skype:
zhishuai.liu
Email:
info@hexinmachinery.com
Office address:
Rm 1402-1403, Excellence Bldg, No.128 Yanji Rd, CBD,Shibei Dist, Qingdao, Shangdong 266000, China