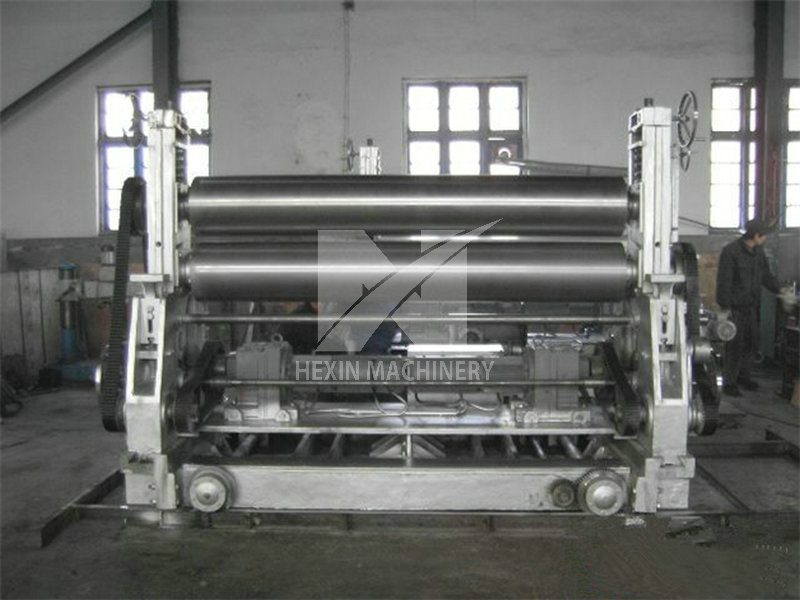 Calender machine for flat glass
Our glass rolling machines are of the modern generation for solar, wired, and patterned glass. We can customize the dimension according to customers requirements,
width from 1600mm to approx.3000mm, melting capacity to approx.150ton per day. Our rolling machines are built with solid and long lasting construction,
aiming to short and save the maintenance and repair times; all drives are electronic controlled separately.
Notice for use
1、Operate manual strictly in accordance with requirements before using the rolling machinery.
2、Before rolling machine operator must strictly check whether the motor is tightened, the upper and lower rollers are tightened in place, the screws are tightened each sprocket, the chain tension is appropriate.
3、Before calender walking, rail must be clean, without debris, in order to avoid accidents.
4、Panning left and right sidewalls calender, the available motor drive or from the link manually fine-tuning, moving up and down using the hand wheel from the linkage rod linkage or fine-tuning screw should be kept clean and lubricated.
5、Calender place to kiln after positioning device should be installed according to the site location to prevent displacement during normal operation calender.
6、Regular inspection, cleaning gear chassis, regular oil changes, to ensure good working order.
7、Before each shift on the sprocket on the main transmission system, when the chain filling oil, keep a safe distance.
8、 Calender during normal operation, do not touch or objects touch operation sprocket and chain, not frolicking beside the machine, equipment and avoid accidents.

HEXIN Machinery produces various OEM wear and corrosion resistant components for the cement, lime, coal, shot blast machines,and iron Ore industries.
The castings HEXIN made generally are made from special irons and manganese steels, which are critically used in the sectiors of cement manufacturing,coal mining (surface and underground), copper smelting,crushers direct reduction of iron (DRI)
Iron ore manufacturing,Lime manufacturing. All the castings manufactured at HEXIN go through strict quality checks at all stages before being supplied to customers.
Contact Us
Tel.:
0086-532-6777 5336
Fax.:
0086-532-8898 7192
skype:
zhishuai.liu
Email:
info@hexinmachinery.com
Office address:
Rm 1402-1403, Excellence Bldg, No.128 Yanji Rd, CBD,Shibei Dist, Qingdao, Shangdong 266000, China